A NEW WAY TO CONCEIVE SALES AND PROMOTION ON WHEELS: THE STORES ON BOARD AN APECAR
April 18, 2023
The line that separates a Food Truck from a Store is becoming increasingly blurred: both solutions represent a sales and promotion channel, but with substantial differences. In fact, every company dreams of being able to position its brand in places of great strategic value, obtaining maximum exposure and visibility of the products and services offered, saving on costs and time. The Piaggio Ape can turn it into reality.
Always considered a symbol of Made in Italy quality and design around the world, the Ape continues to meet the commercial demands of millions of companies. A real design object capable of being converted into an infinite variety of formats and of conveying a series of values, such as the importance of tradition, belonging to a culture, and genuine knowledge. Furthermore, each of its elements can be customized to fully represent the soul of the brand it will host.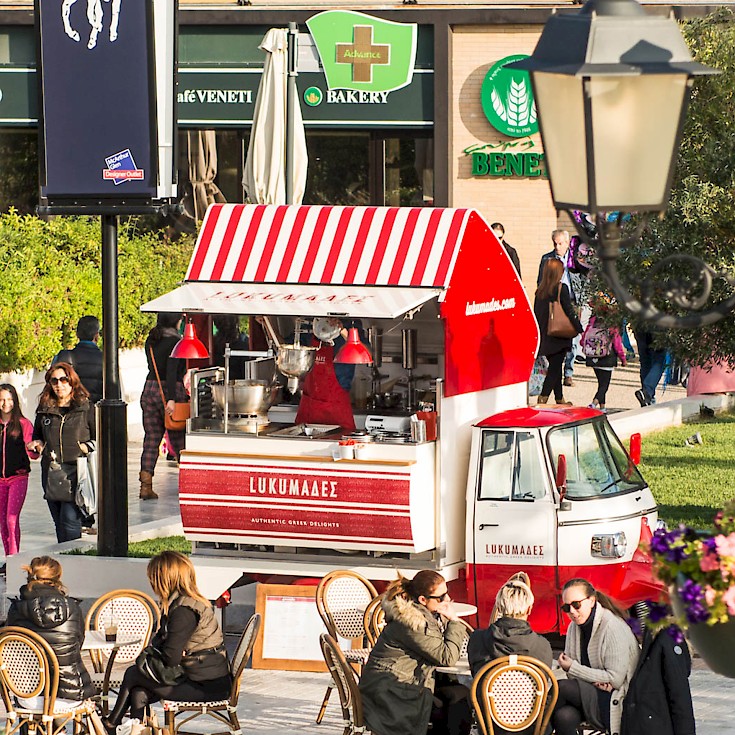 But what are the advantages of realizing a Store aboard an Apecar? First of all, the Piaggio Ape can be installed in environments full of commercial opportunities thanks to its great possibility of movement, such as airports, shopping centres, amusement park, hotels or resorts. Starting your own business is simple and installation takes place with a power outlet, without forgetting that the necessary budget is much smaller than the management and rental costs expected from a fixed shop. Finally, the Ape adapts to any business project, being totally customizable in terms of equipment and graphics, and its appeal is universally recognized.
According to this logic, the Ape can therefore be transformed into a practical Store for selling and promoting products and services that allows you to carry out all the operations that are normally carried out inside premises with a fixed location, serving the same number of customers, but with all the advantages just listed.
For example, our Ape Oyster can be conveniently positioned inside a shopping center of luxury outlet to take advantage of the flow of passers-by who enjoy shopping all year round, or who simply go there to shopping. Within these places there are seating areas that allow visitors to take a break between one purchase and another, enjoying their meal in complete tranquility. Furthermore, an Ape Oyster is immediately visible, thanks also to the innovative opening and retro lines that help it differentiate itself from the competition, and can be set up to offer different services, such as Coffee, Ice cream or any variation of Food.
Or, you can place an Ape Coperture inside an airport or an amusement park. This model allows you to work comfortably from the ground, facilitating the operator's promotional activity: in this way, it is possible to establish direct contact with customers, describing the products and services in a modern and unprecedented way through an original and unforgettable consumer experience. The Ape immediately transforms into a Merchandising Store that is impossible not to notice!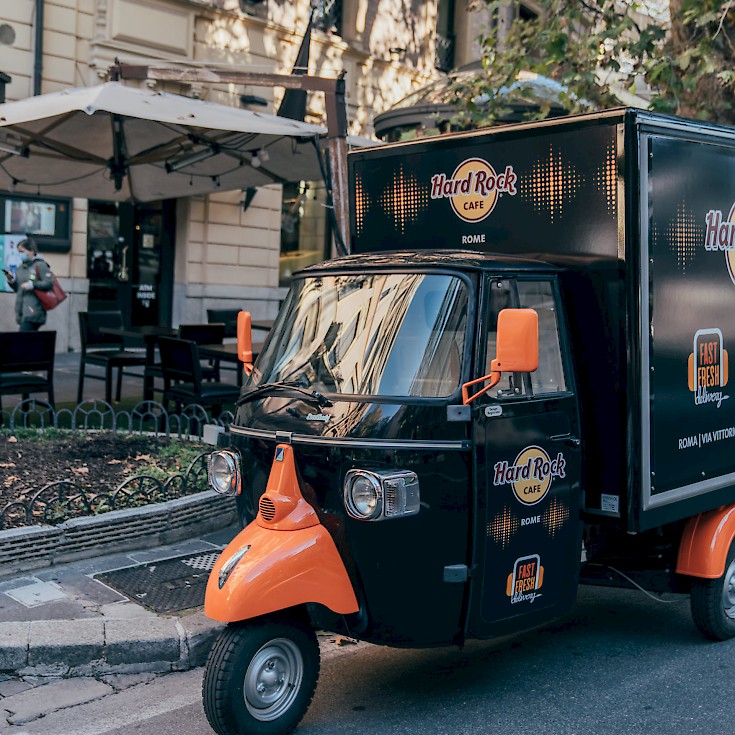 Thanks to the Piaggio Ape, unprecedented commercial and promotional prospects are opening up for companies that have the courage to innovate their strategic processes and look for potential customers in as yet unexplored places, devising new formats and exploiting the functions of an economical, customizable, trendy and agile vehicle, but at the same time very profitable.
Discover our range of vehicles for street food, and contact us now to understand how to make the most of the opportunity to open a fixed shop on board a Piaggio Ape!
Via Poggilupi, 1692
52028 Terranuova B.ni (AR)
Phone: +39 055 919431
Email: info@streetfoody.it