Become a street fooder
When you set up a business, it's vital to get off to a good start, so that you do things properly from the outset: dealing efficiently with paperwork, avoiding mistakes caused by inexperience and having the appropriate equipment to make a really good first impression. And if it's a business that's going "on the road", all this is needs to be taken even more literally. The right way to do it is to put your trust in someone with long experience and in-depth knowledge of every aspect of the world of street food: this is the best solution if you want to start work straight away, confident that you have complied with all the legal requirements without getting too entangled in red tape or wasting time and energy. Ready to conquer the streets and squares with your business, fully focused on your dream and on how to gain maximum satisfaction from the experience.
Ensure that you are in possession of the personal requirements stipulated in the current laws on "commercio ambulante" (itinerant trading) (Legislative Decree 114 of 31 March 1998).
There are several options:
1.1Be listed on the REC (Registro degli Esercenti il Commercio) (register of traders), in the category "public provision") at your local Chamber of Commerce;
1.2Have attended the courses and passed the examinations for food handling and trade, run by the relevant Region;
1.3Have worked for a minimum of two years out of the last five years in food sales, or have been an employee, owner or member of a company carrying out the same activity for an equivalent period;
1.4Have gained a diploma at a specialist catering college;
1.5Finally, for companies, it may be sufficient to nominate a "person in charge" who fulfils these requirements.
Once you have met the relevant criteria, you can apply for a licence. In recent years the regulations have become much more straightforward, and there are now only two categories.
Type a
Ten-year concession for a fixed space in a predetermined area. This may be the most suitable option for a "traditional" type activity in a set location. This type of licence is issued by the relevant Region, it is valid anywhere in the region and has the possibility of attending fairs all over Italy.
Type b
This type of licence is closer to the "on the road" concept for those seeking to start up a Food Truck business. The process is more streamlined, as the licence is issued by registered post by the municipality of residence, and allows itinerant sales and participation in fairs throughout Italy. Licence holders will take turns - in agreement with the local authorities - to occupy temporarily vacant sites or placements in public places and markets, the order being established by the mayor.
3
ACQUIRE
THE RIGHT
VEHICLE
ARE YOU A EXTRA SMALL, SMALL, MEDIUM OR LARGE STREET FOODER?
It depends partly on your budget, but also on your concept and the type of food you're offering.
Do you want to do business in the most picturesque streets of your city's historic centre, without travelling too far from base? Then the Cart could be your ideal vehicle.
It's nippy and easy to manoeuvre, but it can still hold all the equipment you need to prepare and serve your specialities.
Do you want to do business in the most picturesque streets of your city's historic centre, without travelling too far from base? Then the Ape could be your ideal vehicle.
It's nippy and easy to manoeuvre, but it can still hold all the equipment you need to prepare and serve your specialities.
Do you intend to travel the roads of your province or region, following fairs and events? If so, the Medium format, with a slightly larger and more powerful vehicle, can guarantee plenty of mobility and reliability, allowing you to carry everything you need for medium-distance trips.
Are you planning for large numbers and unlimited space? You're definitely a large size! Whatever your size, the secret of your success lies in your ideas, how good you are and your choice of the right partner to support you, giving you confidence at every stage and allowing you to concentrate on your dream, until the great day arrives and you hit the road! StreetFoody, backed by Resti, the Italian leader in specially equipped vehicles, will assist you from the planning to the execution of your Food Truck, key in hand, complete with graphics, cooking equipment and all the trendiest accessories.
FINALLY, YOU NEED TO PASS THE INSPECTION AND OBTAIN THE NECESSARY PERMITS.
The Highway Code stipulates that your Food Truck must be duly inspected and registered as a "special vehicle for business use", an essential requisite for obtaining the Food Safety Permit from the relevant health authorities, which you need to carry out your business.
Vehicles adapted by StreetFoody possess the due certification for all equipment, gas and electricity, as well as CE certification. StreetFoody will provide you with all the necessary documentation.
NOW THAT YOU HAVE A BETTER IDEA OF WHAT'S INVOLVED, YOU CAN START DRAFTING YOUR BUSINESS PLAN
Your business plan is your vital blueprint, the road map of your success on the road.
Obviously, this part depends on your ability to come up with an innovative and attractive food product, which can set a trend and appeal to the increasingly numerous and sophisticated audience of streetfooders.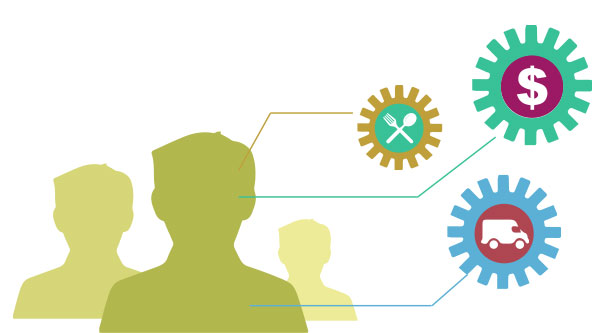 Once you have your concept and your business model clear, StreetFoody can help you with the technical aspects as well as the image.
Of course, in the world of Street Food, image and communication are not minor considerations in determining the success of one truck over another.
You need to be good and always serve excellent food, but you also need to know how to communicate.
Your vehicle is also your vehicle for communication, with its look, its colour scheme: in fact, it's a work of Urban Art being used as a business on wheels.
PRINT