SAVE THE DATE! NOVEMBER 15: NP6 VEHICLE'S LAUNCH EVENT
November 8, 2021
Street food 2022 begins here. We are looking forward to meeting you on Monday, November 15, from 10:00 to 14:00, at our headquarters in Terranuova Bracciolini for an unmissable event: we will spend a whole morning discovering the brand new StreetFoody vehicles, and much more!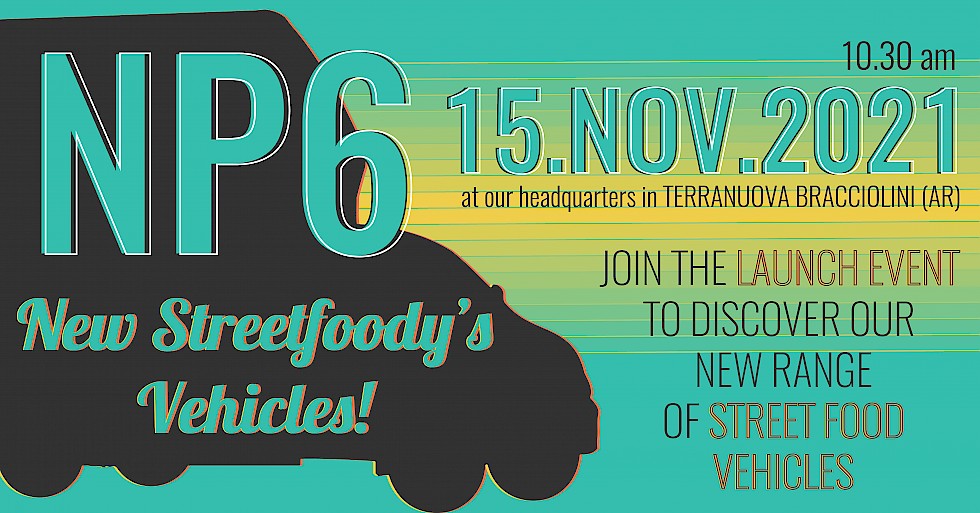 THE EVENT
The program of the event will be full of appointments. The morning starts with the protagonists, the new StreetFoody vehicles: you will be introduced to the range and all the possible equipments of the NP6.
You will have the opportunity to discover all the leading street food vehicles: from the Cart, to the Ape, to the Trailer and the Food Truck.
There will be many partners and guests who will reveal the secrets to successfully bring the business on the road.
We will take you behind the scenes for a special tour of StreetFoody's in-house production, discovering the workshops where our specialized workers have been making street food vehicles for over sixty years.
We will end the morning with a moment of entertainment dedicated to Showcooking, in which we will see the vehicles at work for a tasting of delicious freshly cooked products.
THE PROGRAM
During the morning we will meet industry's leading professionals, who will share experiences, trends and suggestions to successfully bring the business on wheels. We will host:
PIAGGIO, manufacturer of commercial vehicles;
LOTUS, manufacturer of professional stainless steel kitchens for catering;
ALFA FORNI, a company specialized in the production of professional wood and gas ovens;
PANZO, street food of delicious Apulian panzerotti;
ECOBIOSHOPPING, plastic free and eco-sustainable products;
DON FRITTO, innovative street food fryer;
EATINERO, catering and street food events.
JOIN US FOR THE EVENT
Mark your agenda: Monday 15 November from 10:00 to 14:00 - we are waiting for you at our headquarters in Via Poggilupi, 1692 in Terranuova Bracciolini, for an unmissable event.